Exceptional concert LUCIE IN THE OPERA exclusively in Slovakia!
In the autumn of 2021 fans of the famous Czech rock band Lucie will experience the highest peak of their musical season. Lucie announces an indoor tour starting with the Czech cities of Ostrava, Brno, Pardubice, Prague and with only one stop in Slovak Republic!
The legendary Czech rock band Lucie prepared a brand new performance for their fans with exclusive musical arrangements accompanied by a symphony orchestra for the first time after long time! A choir, an organically dynamic stage and much more will be a part of the LUCIE IN THE OPERA concert which will take place on September 30, 2021 at the Ondrej Nepela Arena in Bratislava.
The frontman of Lucie David Koller along with band members Robert Kodym, P.B.CH. and Michal Dvořák unanimously claimed: "The past period of time has been very challenging for everyone. Among other things, the year 2020 showed us that it simply does not work for us without a culture. As if we lack a piece of our soul, a possibility of self-expression, a freedom, and not just the artistic one, which we should unconditionally protect. The more we are looking forward to returning to the stage again in 2021 and experiencing that tremendous energy that comes with a live performance with our fans. It is an irreplaceable experience…"
Members of Lucie also agreed that one of the biggest and most challenging innovations during the creation of the concept of the LUCIE IN THE OPERA TOUR was the dynamic staging itself which uses the latest sound technologies and visual effects, as well as proven theatrical principles: "It was a difficult and a beautiful work at the same time and we believe that the result will be worth it. It has been a special project for us, so we want our fans to have an exceptional experience from it as well," popular Czech musicians emphasized.
In terms of music, LUCIE IN THE OPERA TOUR 2021 will literally be a turning point – the band teamed up with the Czech conductor Kryštof Marek, the laureate of the prestigious Czech Lion Award for Music in the film Masaryk, who created new symphonic arrangements for the entire live music performance of Lucie. In a combination of the legendary rock band, the Hradec Králové Philharmonic Orchestra and the choir, fans will experience almost a two-hour long cross-section of the entire repertoire of Lucie as they have never experienced before.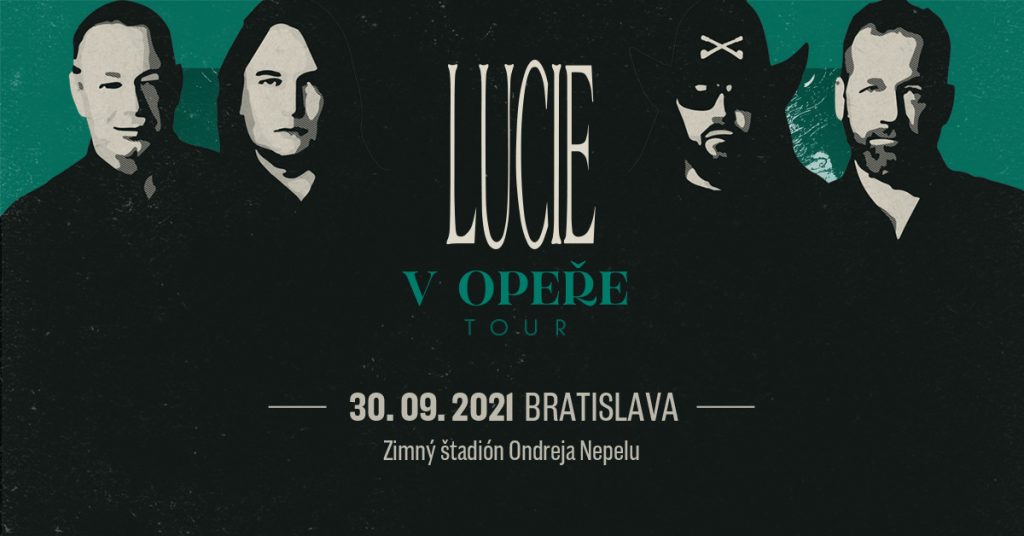 The concert will take place on September 30, 2021 at 8:00 p. m. at the Ondrej Nepela Arena Bratislava (Winter Stadium). All information, including ticket sale, can be found here.
Note: Despite the current pandemic situation buying tickets is completely safe. In case of rescheduling, ticket refund will be possible and the tickets will remain valid according to up-to-date legal terms and conditions